History of an Olympian Wannabe
I would like to preface this post by saying I am not an athlete by any means. 
If we are friends, you know this already. But for those who don't, I am the girl who was am a theater nerd through and through. The closest thing I ever did that was sporty was the 13 years of dance I took growing up. Actually, there was that one summer I went to camp and we were forced play a sport. I picked soccer, and I was the only one who didn't own a pair of cleats. Or like, any sort of skill whatsoever. Needless to say, I didn't do well, nor did I ever return to my aspirations of being the next Mia Hamm (or Abby Wambach, choose the geographical hero of your liking).
However, the Olympics - the Olympics are a whole different ball game. 
I don't remember what first sparked my interest in the Olympics, maybe it was when I used to cheer on Michelle Kwan at the Winter Olympics with the rest of the Filipino Bible Study - obviously. (For the record, she was robbed) But the earliest memory I can recall is from the 1996 Summer Olympics in Atlanta. I remember being really into the gymnastics team that year, as we all were. I was totally going to start up tumbling. Possibly balance beaming.
That September, I started off 5th grade with a bang. And by bang I mean, possibly the nerdiest thing I could have done, in an attempt to look super cool. For some reason, I felt like I needed to single-handedly change the face of journalism at Nazareth Hall, by creating a newsletter for our 5th grade class. My teacher, Miss Cosmano, politely obliged, and I went off on my own - ON AN APPLE COMPUTER USING A WORD DOCUMENT.  This newsletter was one-sided, one page long, with probably like 4 or 5 "articles." I don't remember what most of them were about, probably like a review of Dunston Checks In or a spotlight on Lisa Frank's newest products. However, the feature story of the newsletter was about the Summer Olympics. There she was, a picture of invalid Kerri Strug being carried by her semi-creepo coach, Bela Karolyi, right on my front page.
tl;dr below…
I gave an all around wrap up of what happened at the Olympics, and Miss Cosmano was so impressed with my work that she put it up on the bulletin board by the door for all to see. Did I mention that I was the only person who wrote in said newsletter? And that that was the one and only issue that I ever published? Yeah, I'm that kid.
Since then, my love for the Olympics has only grown. In 1998 I watched Tara Lipinski clinch the gold in her glittery pink outfit over Michelle Kwan (robbed, I say). In 2000, I found myself rooting for an Australian, Ian "Thorpedo" Thorpe as he made a run for the gold in swimming. In 2002, I fell in love with Apolo Anton Ohno and short track speed skating. My friend Molly and I were seemingly obsessed with him. (or was that just me?) I even dedicated a page - a whole page! - to him in my school agenda! I was totally going to start short track skating. who was i kidding, those blades look like they could kill. I looked up local curling clubs instead.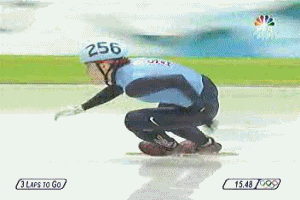 (this pic is from vancouver, but too awesome to not include)
In 2004, I became obsessed with Michael Phelps. see: livejournal entry below
8.25.2004 - 1:23am

i <3 the olympics

missmollz914: olympics are my crack

no words have ever been true.

it's really like an addiction. seriously. me and molly aren't kidding around with the olympics. 

this being said, i could go on and on and on about the olympics, however, i will only post a few things.

#1. the excitement of the men's individual apparatus competition in gymnastics the other night for the .. uneven bars i beleive, was RIVETING. poor paul hamm… as much as i love the USA, that nemov is "sexy alexi" and… mhm

#2. go to www.hotolympians.com [this site unfortunately doesn't exist anymore]

#3. ( This is why you should watch the olympics ) [this led to an LJ cut of what I'm assuming is various pictures of hot olympians. they have since been removed from the tripod/geocities host sites]

#4. it makes me want to be an olympian. or do sports. something like that.

#5. it reminds me that not everything in this world is bad. sports brings people together. i think we should all just live in the olympics. then we probably wouldn't have any wars a la bush.. plus we would get to see michael phelps everyday :)
side note: i was an absolute idiot in high school. ugh livejournal. why.
In 2006 … well, in 2006 my dreams came true. I just happened to be living in a castle in the Netherlands at the time, and out of our week long travel breaks happened to be around the time of the Winter Olympics in Torino, Italy. Along with my friends Jenna and Erika, we made our way from Paris (where we had a 'mandatory' group trip), down to the southern coast of France to Monaco, then travelled east to Milan, Italy, which is where we stayed. The train ride to Torino didn't take too long, so we spent the day there. We walked around the quaint city, perused the Sponsor Village, went into makeshift Olympics museums, we even accidentally stumbled up Matt Lauer and the rest of the Today show gang filming with the Stanley Cup. Andddd we were lucky enough to score tickets to a game!! Ok, so it was the semi-finals of women's ice hockey, Italy vs. Germany (unfortunately, Italy lost, but you knew that, right?). Not really a fan of hockey, but it was so awesome just being there! I bought some merch, took some pix, and left in disbelief that I actually went to the Olympic games.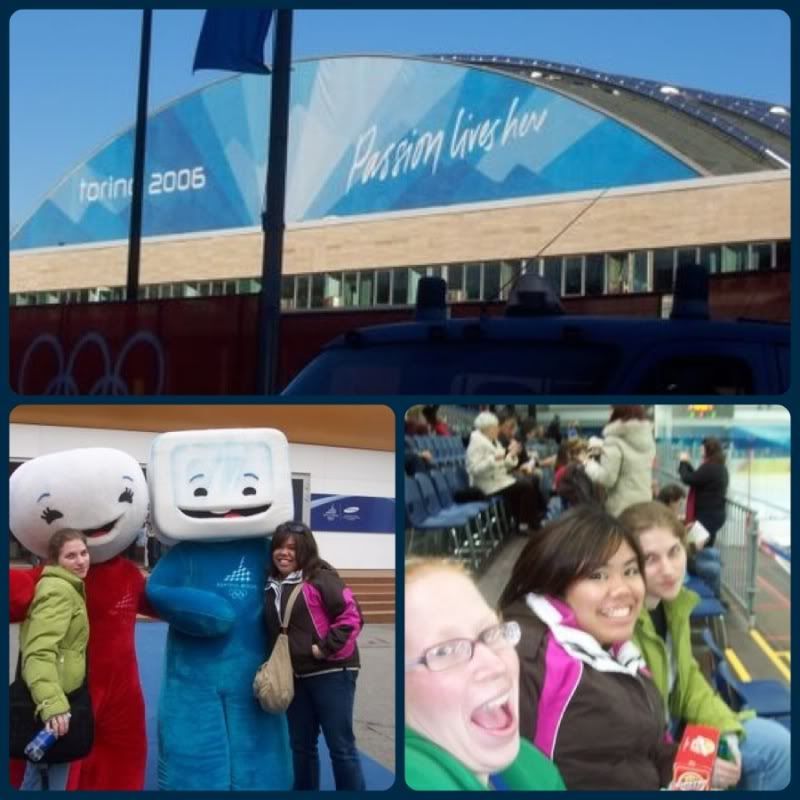 In 2008, I renewed my obsession with Michael Phelps. Meghan and I were roommates in Boston at the time, and we couldn't stop watching his triumphant run at the gold. If you recall, since the Olympics were in Beijing, the time difference was a little whack a doo, so we would stay up late at night just watch him compete. We needed to know what he was listening to on his iPod (answer: Lil' Wayne). We wanted to be best friends with his mom, Debbie. I had my eye on Ryan Lochte. We lived by Bob Costas's rules to living life while still watching the Olympic games. 
1. Stay hydrated
2. Tell yourself you only need 4 hours of sleep - really.
3. Wear sunglasses to hide red eyes. 
4. Crank up your ipod and listen to anything michael phelps listens to. 
5. Skip work. You're never going to see an olympics like this again anyways
Meghan bought me this calendar. We had unrealistic plans about going to London in 2012. I even signed up on their mailing list as the closing ceremonies were happening (clearly, the trip did not happen). i was totally going to start up swimming lessons again. 
In 2010, I watched Shaun White's ridiculous McTwistMcNuggetwhatever over and over again on my DVR with Eva & Ryan in LA. 
Now, in 2012, I find myself just as excited about the Olympics as before. 
Sure, the Olympics are centered around these amazing athletes competing to be the best in the world. But I think it's much more than that. The Olympics are two weeks where we temporarily forget the hardships of the world, and we all come together to cheer on people we don't even know, all in the name of solidarity for our country. It reminds us that there is more to our lives than what is just around us in our every day routines. We're introduced to athletes with astounding stories, and the roads that led them to where they are today. It's a reminder that we are just a small part of this huge, amazing world we live in, and this is the time to celebrate it. 
And who knows, maybe this will finally be the year I take up a sport and become an athlete. I hear there's a pregnant lady from malaysia competing in the sharp shooting/rifle competition, so I mean if she can do it, so can I, right?